David Summer – Music Background

David Summer holds a Bachelor of Music in Education degree from Lowell University (now known as UMass Lowell). He has over 35 years of professional musical experience as a music educator, performer, recording musician, author and composer/arranger.
David began his teaching career by creating a K-12 Music program in Sabattus, Maine, teaching classroom music and directing all the school bands and high school chorus. He then went on to serve as a music teacher for several Massachusetts school systems including the Natick public schools and Holliston public schools where he taught instrumental music, band, orchestra and elementary classroom music.

David has also been on the faculty at Marian High School in Framingham MA, where he taught Band, Instrumental Lessons, Music Theatre and AP Music Theory classes. He directed the Marian High School Band at the school football games, for graduation ceremonies, in many public performances around Framingham and as part of the annual Marian HS musical. David wrote several custom instrumental and vocal arrangements for the Marian High Band, in addition to composing an original composition for solo piccolo and band. He was a member of the Marian High School faculty in Framingham, Massachusetts for five years.
David now concentrates his teaching activates as a private lesson instrumental teacher, giving music lessons including private flute lessons and trumpet lessons at his home music studio in Groton MA. He also occasionally conducts sectional rehearsals, and provides instrumental instruction, for local Massachusetts schools.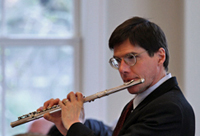 As a performing musician, David has been a trumpet player and/or flutist in many different types of ensembles including big bands, jazz ensembles, function bands, brass ensembles and chamber orchestras. He led his own jazz quintet and brass quartet and wrote musical arrangements for many of these and other ensembles. As a performer, David now specializes in performing as a soloist on the trumpet and flute for church services and as a solo flutist for other ceremonial occasions.

David is also very involved in music technology. He produces his own recordings, in his multi-track home recording studio, covering a wide range of music from classical to jazz. These recordings include his own compositions and arrangements and make use of David's ability as a multi-instrumentalist, playing the flute, trumpet, trombone and keyboards.
As part of his continued dedication to teaching music, David also uses his home recording studio to produce a series of Music Education Podcasts. These podcasts are of special interest to flute students, trumpet students, instrumental music instructors and school classroom music teachers. The flute podcast showcases a collection of standard flute duets, which are also posted in flute play along recordings.

The trumpet podcast does the same for a series of standard trumpet duets. These are also posted as trumpet play along recordings.
David is the author of several articles on audio recording and other aspects of music technology. The subjects for these pieces include how to record brass instruments, recording the flute and a acapella vocal recording. These articles have been published in leading music magazines such as Recording Magazine, Electronic Musician and The Instrumentalist and include photographs and recorded examples created by David for each article.
In addition to his music degree, David also holds a Bachelor of Science in Computer Science from Framingham State College. He uses his computer science degree to help him run David Summer Communications, which specializes in quality web development, technical communications and marketing services, educational services and other communications initiatives.