Experienced Music Teacher – David Summer
Quality Music Lessons – Beginning, Intermediate & Advanced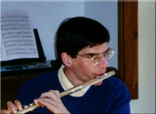 Along with a degree in music education, David Summer brings to his teaching over 35 years of professional teaching and performance experience. David's music teaching includes private trumpet lessons and flute lessons as well as instruction and tutoring in elementary and advanced music theory, music technology and keyboard instruction. All of these private music lessons are tailored to each individual student's interests and ability.
Trumpet Lessons and Flute Lessons
Private Trumpet Lessons

See more information about taking quality private trumpet lessons from David Summer.
David teaches private  trumpet lessons and flute lessons to children and adults. He takes pride in his patience and his ability to encourage, motivate and inspire his students. In all his music lessons, David enjoys playing along with his students and teaching by example.
David helps students with their music reading, practicing and performance skills. He shows instrumental students techniques that will improve their sight reading as well as advising students on the most effective ways of practicing their instrument.
Music Auditions and Performances
As a musician who is an active performer, David can provide practical advise to music students on how they can play their best while performing in front of an audience. He also helps students prepare for a special performance or audition. David has helped many school age flute students and trumpet students gain admission to Massachusetts schools district bands. He has assisted high school seniors, who are going on to major in music, with their college music school audition pieces.
Classical and Jazz Improvisation Instruction
Private Flute Lessons

See more information about taking quality private flute lessons from David Summer.
David has also taught many classical and jazz instrumentalists the art of improvisation. He uses play along materials to make improvising fun and combines playing with ear training so students learn how to hear chord changes and recognize musical patterns. Music students with an interest in jazz improvisation will be able to learn this skill, even with no previous jazz experience. Students interested in classical music can learn how to improvise a descant part to a hymn tune or to enhance a baroque sonata with improvised embellishments.
Playing an Instrument – A Wonderful Life Long Hobby
Playing a musical instrument can be a constructive, rewarding, life long hobby or avocation. Taking private instrumental music lessons from an experienced, professional quality teacher is the best, most effective, way for any music student to reach his or her full playing potential. Students who are successful in music often transfer that sense of dedication, achievement and accomplishment to other endeavors in life.
"David provides excellent and expert coaching for our small classical ensemble. He arranges appropriate music for the unique instrumentation of the ensemble, helps the individual players with their parts by devising a variety of exercises for them and does a superb job of keeping them motivated by recording their performances and putting the recordings on a website for their study and enjoyment. David shows significant expertise as a performer, an arranger, a rehearsalist and recordist and he has established excellent rapport with each student in his band."
Steve Peisch
Arts Chair, Lawrence Academy
David has taught music lessons to students at all levels from beginning flutists and brass students to music school students and professional players. He has advised professional musicians on the business aspects of being a musician and has helped adult "comeback" players revitalize their interest in the playing the flute or playing the trumpet. David has helped many adult beginners discover the joy of playing an instrument.
Music Technology
In addition to his degree in Music Education, David also holds a degree in Computer Science. He makes full use of the resources that technology has to offer today's music teacher, including podcasting, play-along accompaniments, notation software, portable recording devices and more.
David also believes in providing all students with a firm musical foundation. Into all of his private music lessons, David incorporates elementary music fundamentals such as scales, chords and related musical pattern studies. He also includes elementary and advanced music theory studies to help students feel more comfortable and confident in any musical environment.
Most of All, David Makes Learning Music Fun
See more information on taking quality private trumpet lessons or private flute lessons from experienced teacher David Summer.
David Summer Music Studio Location
All music lessons are given in a warm, friendly home atmosphere, in a music studio located in David's home in
Groton Massachusetts
, 01450. David's music studio is conveniently located for students looking for quality private music lessons in Acton Massachusetts, music lessons in Littleton Massachusetts, music lessons in Westford Massachusetts and music lessons in Concord Massachusetts.
David's music studio is also easily accessible to local music students in Massachusetts looking for quality private music lessons, in or near music lessons Boxborough MA, Northborough MA, Devens MA, music lessons Carlisle MA, Berlin MA, music lessons Wayland MA, Bolton MA, Clinton MA, Maynard MA, music lessons Stow MA, music lessons Townsend MA, music lessons Pepperell MA, music lessons Ayer MA, Hudson MA, music lessons Sudbury MA, music lessons Concord MA, Acton MA, Dracut MA, Lunenburg MA, Bedford MA, music lessons Littleton MA, music lessons Southborough MA, Billerica MA, Chelmsford MA, music lessons in Groton MA, Sterling MA, Marlborough MA, Lexington, MA, music lessons Dunstable MA, Lowell MA, Westborough MA, Westminster MA, Fitchburg MA, Leominster MA, Tewksbury MA, music lessons Harvard MA, Lancaster MA, Tyngsboro MA, Ashby MA, music lessons Westford MA, Shirley MA, music lessons Lincoln MA and surrounding towns, as well as towns local to southern New Hampshire, including Brookline NH, Greenville NH, Hollis NH, Hudson NH, Mason NH, Milford NH, and music lessons Nashua NH. Also Central Massachusetts music lessons, Worcester area music lessons, Boston area music lessons and MetroWest area music lessons, including Framingham MA music lessons.