Air de Trompette, by Telemann
All recordings and written material copyright © 2013 by David Summer
Performance notes and trumpet recordings

Air de Trompette (or "Air for Trumpet") is a short baroque piece for trumpet and keyboard. David sometimes uses the piece as a church service trumpet postlude, because of its upbeat nature and happy, bright trumpet sound. When playing trumpet and flute for church services David feels that the best trumpet postlude pieces are "short but sweet" and Air de Trompette fits that definition very well. German Baroque composer and multi-instrumentalist Georg Philipp Telemann composed Air De Trompette.
Georg Philipp Telemann
Georg Philipp Telemann (1681 – 1767) was one of the most prolific composers in history. With over 3,000 musical compositions to his credit, Telemann was considered by his contemporaries to be one of the leading German composers of the time. Telemann was a friend of JS Bach and GF Handel and his music constitutes an important link between the late Baroque and early Classical styles.
Equally impressive is Telemann's active role is securing publishing rights to his own music, paving the way for establishing intellectual property rights for musical composers. Flutists should also take special note of Telemann's music as he wrote many wonderful pieces for solo flute as well as flute duets.
Air de Trompette Performance Notes
In baroque and classical music an "Air" is often an instrumental piece although the term "Air" originally meant "song-like". Air de Trompette should be thought of as being a "song" for the trumpet. To that end is should be played at a moderate tempo as if a vocalist were singing the piece.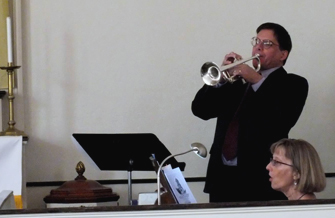 As with most music, there are many ways to interpret the piece. With baroque music in particular the ornaments are open to interpretation. If you're a trumpet student who is learning this piece listen to many interpretations and incorporate those elements that appeal to you in your performance.
Don't feel constrained by any historian's notions of how the piece may have been played 200 years ago. Remember that ornamentation was, and is, open to the individual performer's interpretation. In the printed version David has included here, he's notated the ornamentation he often uses in performance. But again, feel free to change that as it suits you.
David has also added dynamics and articulation, again as he interprets the piece. The dynamics assist in bringing the piece to a natural climax at measure 16. One thing that will help this is to come back down to mezzo-piano on the 2nd beat of measure 15 and crescendo up to the second beat of measure 16. Then stay at forte to the end of the piece for a dramatic finale.
The articulation, as written in this version, follows the traditional baroque style in runs of 16th notes: tongue the first 2 and slur the second 2. As mentioned, however, you should try many different articulations until you find one that makes the piece sound best to you.
Performance Key

Like many baroque pieces that were originally intended for natural trumpet, Air de Trompette, as normally published, is pitched too high to be practical for Bb trumpet. The piece is often performed on a C trumpet and is generally published as being in the key of C. On a C trumpet, this makes the highest note a high C.
There is no practical reason to be a slave to the original keys in performance. We are not playing on the original instruments and this is the 21st century not the 18th. Instead, what makes sense is to play these pieces in keys that are comfortable for the performer.

Remember also that keyboard parts are not set in stone. This was true even back in the baroque, when these pieces were originally written. With the baroque Figured Bass, the keyboard part was often a bass part with an indication of how a chord might be voiced. It was up to the keyboard player to interpret this.
Modern published baroque music has these keyboard parts written out. However, just like with the articulation, dynamics, etc in solo instrument parts, these keyboard parts were worked over by an editor and again open to interpretation. Publishers sometimes refer to these edited keyboard parts as a keyboard "realization". If changing the key to a baroque piece results in an undesirable keyboard realization, feel free to reinterpret the keyboard part as well.
In the case of Air de Trompette a change of key to F concert makes this piece easily accessible to students playing a Bb trumpet. If you are playing a C trumpet, concert G is a key that is comfortable for the performer while retaining the bright "air" quality of the piece.
Air de Trompette Play Along
David often creates classical and jazz play along materials for his private trumpet students and flute students. Here, in addition to his own performance of Air de Trompette, David he has created two play along piano accompaniment tracks for the piece.
Here is sheet music of the trumpet part to Air de Trompette in the form of a free pdf file, in the key of G. Download and print the part and then try playing along with an accompaniment only track. Use the piano Accompaniment only in F Concert track if you are playing a Bb trumpet. Use the piano Accompaniment only in G Concert track if you are playing a C trumpet.

Private Trumpet Lessons in Central Masschusetts

See more information about taking quality private trumpet lessons from David Summer.
As a trumpeter, you might also be interested in David's Selected Duets for Trumpet Podcast. Also, try reading his article on Recording Brass Instruments that was published in Electronic Musician Magazine.
If you live in Massachusetts or Southern New Hampshire see information on taking quality beginning, intermediate or advanced trumpet lessons from experienced music teacher David Summer.