Bop Duets, by Bugs Bower
All recordings and written material copyright © 2013 by David Summer
Performance notes and trumpet recordings
Playing duets, at almost any level of trumpet playing, is both fun and educational, especially when playing with an experienced trumpet teacher. David enjoys playing duets, classical and/or jazz duets, with all his trumpet students.
Here are recordings of two duets from the wonderful duet book Bop Duets, Volume 1 by Bugs Bower. It appears that you can only get these duets in a set of three volumes now, but if you can find just volume one by itself, get that. Also, don't confuse this book with Bug Bower's later duet book "50 Jazz Duets".
Bebop Duets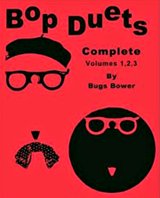 These duets are in the style of the type of jazz called "bebop". Bebop, also known as bop, is a style of jazz characterized by fast tempos and a certain "jaggedness" or angular sound. It started sometime in the 1940s, probably reaching it's height in the mid 1960s. Saxophonists Charlie Parker and Coleman Hawkins were masters of bebop as was trumpeter Dizzy Gillespie.
These bop duets are challenging for trumpet players, in particular because of the speed at which they are usually played combined with the melodic intervals in the duets. Generally a trumpet student should have several years playing experience before attempting these duets. If you're an experienced trumpet player, who enjoys jazz duets, this book should be in your library.
Playing the Bop Duets on Trumpet

There are no metronome markings in either the early editions or the later editions of these bop duets. However, in order to emulate the bebop style, the duets should all be played at a somewhat fast tempo.
David has recorded Bop Duet Number 4 at a metronome marking of quarter note = 148. This duet features a nice combination of soli writing and some "question and answer" playing. The soli sections in particular make a happy sounding melody. The second trumpet briefly takes the melody near the end of the duet. Actually that's another nice feature of these duets, the parts are pretty much equal.
David's recording of Bop Duet Number 9 is at a metronome marking of quarter note = 152, a bit faster than the previous recording. Again though, this is somewhat arbitrary as there are no real tempo markings. This duet also features some back and forth or "question and answer" writing. Try playing all of the duets at various tempos to see what suits you in particular.
Duet Recordings and More Resources for Trumpet Players
David enjoys playing these duets with his advanced high school trumpet students, college students and adult trumpet students. He has recorded all eleven of the duets in this series and many other series of jazz duets as a practice aid for his trumpet students.

Private Trumpet Lessons in Central Masschusetts

See more information about taking quality private trumpet lessons from David Summer.
As a trumpeter, you might also be interested in David's Selected Duets for Trumpet Podcast. Also, try reading his article on Recording Brass Instruments that was published in Electronic Musician Magazine.
If you live in Massachusetts or Southern New Hampshire see information on taking quality beginning, intermediate or advanced trumpet lessons from experienced music teacher David Summer.
Happy trumpet duet playing!