David Summer – Trumpeter and Flutist in MA
Church Services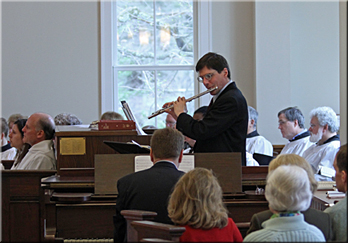 David Summer has been performing professionally for special church services and ceremonies, as a Trumpeter and Flutist, in MA, NH and RI for over 40 years.

If you are a church music director planning a special service, you should know that David:
• Can sight read any music you may be planning.
• Will handle all necessary transpositions.
• Can derive a Trumpet or Flute part from an existing choir piece.
• Has a large repertoire of pieces for Trumpet or Flute with Organ, Solo Flute and Trumpet or Flute with choir.
Hear some sample hymn descants written by David and some recordings made live on location at various New England churches.
David Summer is a classically trained musician. Over the years, he has been a flautist and/or trumpet player in many classical ensembles including brass quartets, brass quintets, flute ensembles and chamber orchestras.
However, in the past David also worked as a brass player and flutist in different types of jazz and pop ensembles too, including big bands and concert bands and has lead his own jazz ensemble. This additional performance background, particularly in improvisation, gives David the ability to derive beautiful trumpet or flute parts as needed from keyboard parts or chord changes.
Playing Trumpet and Flute in Church
Some of the Churches
David has Played for
Arlington, MA
Calvary Church, United Methodist
St. Agnus Church
Ashland, MA
St. Cecilia's Church
Auburn, MA
St. Joseph's Church
St. Luke's Church
Belmont, MA
St. Joseph's Church
Boston, MA
Old North Church
Trinity Church
Boxboro, MA
United Church of Christ
Cumberland, RI
St. Johns's Church
Framingham, MA
Grace Congregational Church
Plymouth Congregational Church
St. Andrew's Episcopal Church
St. Bridget's Church
St. George's Church
St. Jeremiah's Church
St. Steven's Church
St. Tarcisius Church
Wesley United Methodist Church
Grafton, MA
St. Phillip's Church
Hopkinton, MA
St. John's Church
Lincoln, MA
The First Parish In Lincoln
St. Anne's in-the-Fields Episcopal Church
Littleton, MA
Congregational Church of Littleton, UCC
Marlboro, MA
First Church of Marlborough
SSt. Ann's Church
Medway, MA
St. Joseph's Church
Milford, MA
Sacred Heart Church
Milford, NH
First Congregational Church Milford NH
Millis, MA
St. Thomas Church
Natick, MA
Hartford Street Presbyterian Church
Sacred Heart Church
St. Patrick's Church
St. Paul's Episcopal Church Natick
Needham, MA
St. Joseph's Church
Newton, MA
Mary Immaculate Church
Trinity Episcopal Church
St. Ignatius Church
St. Lawrence Church
Norwood, MA
St. Catherine's Church
St. George's Church
St. Timothy's Church
Pepperell, MA
Community Church of Pepperell
Shirley, MA
St. Anthony's Church
Southboro, MA
Pilgrim Church
St. Anne's Church Southborough
Sudbury, MA
St Anselm Church
Wayland, MA
Peace Lutheran Church
Community United Methodist Church
Church of the Holy Spirit
St. Zepherins Church
Wellesley, MA
Wellesley Baptist Church
St. Paul's Church
St. Andrew's Church
Wellesley College Chapel
Weston, MA
St. Julia's Church
Regis College Chapel
Worcester, MA
Holy Cross Chapel
St. John's Episcopal Church
St. George's Church
Wrentham, MA
St. Mary's Church Wrentham
Playing the Trumpet and Flute well in a church setting is a very specialized type of performance playing. David has decades of experience, as a professional freelance flutist and trumpeter, tailoring his flute and trumpet playing to any church setting.
Often, David will begin the church service with a flute prelude, setting a contemplative and welcoming tone before playing the processional opening hymn on the trumpet. During the service, David will play along with the hymns as the choir and congregation sing. For each hymn, he will select the best, most appropriate instrument, trumpet or flute to effectively compliment the particular piece.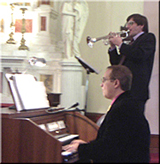 David can also play along with the choir and congregation during sung responses and acclamations as well as during a choir Anthem, the Gloria, Offertory and Communion. The postlude is usually performed on the trumpet. For a postlude, David likes to perform an instrumental version of a joyful hymn, often with a trumpet descant he has composed himself.
Naturally, Advent season including Christmas Morning and Christmas Eve, and Easter Holy Week, including Palm Sunday, Maundy Thursday, Good Friday, Holy Saturday (Easter Vigil), Easter morning and on to Pentecost, are busy times for musicians, especially so for trumpet players and flutists here in Massachusetts. However, trumpet and flute music can impart a beautiful, festive setting to any of your church services and celebrations at any time of the year. David plays throughout the year for Confirmation and First Communion ceremonies as well as for church anniversaries, pastor installations, church renovation celebrations, organ dedications and other special occasions. Often a church will have David return to perform, not to mark a special occasion, but simply as a beautiful addition to the music.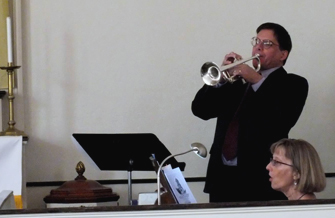 David takes great pride in being able to blend into any church setting and in his ability to work very well with all organists, choir directors, ministers and church music directors. He works hard to ensure that the experience of performing with an additional musician is a pleasant and satisfying musical experience for everyone. David expertly handles all the technical aspects of working with a trumpeter and flute player including handling all transpositions as well as deciding when and where it's appropriate to play during a piece with the choir and/or congregation. His 30 plus years of professional experience have made him an expert at blending with church choirs and congregations, enhancing the natural beauty of the vocal performances.
Having David play trumpet and flute for your special services will make the occasions even more memorable for you and your congregation. When you work with an experienced, professional trumpet player and flutist, the entire experience will be a happy and joyous occasion.
Consider having David Summer provide Trumpet and/or Flute music for some of your church services this year.
If you're a church music director or pastor Contact David today for more information.
Hear some sample selections from David's performance repertoire.
David has also make several live performance location recordings of his church performances.
Church Locations
David Summer has performed as a Trumpeter and Flutist for dozens of churches in New England, mostly throughout Massachusetts, including the Boston area and Worcester MA area. Also in northern Rhode Island and southern New Hampshire, including working as a Trumpeter and Flutist in Nashua NH.
MA Churches: David can generally travel to your church if it's in or near any of the following central Massachusetts locations, local to Acton, Andover, Arlington, Ashburnham, Ashby, Ashland, Athol, Attleboro, Auburn, Ayer, Bedford, Bellingham, Belmont, Berlin, Billerica, Blackstone, Bolton, Boxborough, Boxford, Boylston, Burlington, Carlisle, Charlton, Chelmsford, Clinton, Concord MA, Devens, Dover, Dracut, Dudley, Dunstable, Fiskdale, Fitchburg, Foxborough, Framingham MA, Franklin, Gardner, Grafton, Groton MA, Groveland, Harvard, Haverhill, Holden, Holliston, Hopedale, Hopkinton, Hubbardston, Hudson, Lancaster, Lawrence, Leicester, Leominster, Lexington, Lincoln, Littleton MA, Lowell, Lunenburg, Lynnfield, Marlborough, Maynard, Medfield, Medway, Mendon, Methuen, Milford, Millbury, Millis, Natick, Needham, Newton MA, Norfolk, Northborough, Norwood, Paxton, Pepperell, Rutland, Sherborn, Shirley, Shrewsbury, Southborough, Spencer, Sterling, Stow, Sudbury MA, Templeton, Tewksbury, Topsfield, Townsend, Tyngsboro, Upton, Uxbridge, Waltham, Watertown, Wayland, Webster, Wellesley MA, Westborough, Westford, Westminster, Weston, Westwood, Whitinsville, Winchendon, Worcester MA, Wrentham.
NH Churches: Also to churches in or near any of the following southern New Hampshire locations, local to Amherst, Bedford NH, Brookline NH, Chester, Derry, Greenfield, Greenville, Hancock, Hollis, Hudson NH, Jaffrey, Litchfield, Londonderry, Manchester NH, Mason, Milford, Nashua NH, New Boston, New Ipswich, Pelham, Peterborough, Plaistow, Pratt, Salem , Wilton.
RI Churches: As well as churches in or near some northern Rhode Island locations, including Albion, Cumberland RI, Forestdale, and Woonsocket RI.
If you're a church music director or pastor Contact David today for more information.